Guest Speaker, Tom McClean's Portfolio


Client List:
Tom has delivered Presentations to the following Key clients:
ISIS Capital Plc
Flight Centre
CSG Systems
Mark Two Distributors
Paladin Resources
Head Teachers Conference
Parcel Line
Energies Industries Council
Toshiba

MBNA Bank
Quality Software Products
Siemens
Standard Chartered Bank
Cunard
Barclays Bank
Nvidia
London/Victoria
British Telecom
Commendations from recent speaking events:

Quote from: Clare Shakespeare-Watts, Northern Region Manager, EIC on the occasion of the EIC Northern Annual Dinner
"Tom entertained my 90 industry guests with his very personal, highly enjoyable tales and anecdotes from his amazingly varied and adventurous life. In this after dinner setting, he pitched his presentation accordingly and left them wanting more!

Quote from: Rachael Duffy Assistant Manager, Training & Conferences, Flight Centre ( UK ) Ltd
"Tom delivered such a motivating presentation, providing us all with inspiration & living proof of someone who will not say that something 'cannot be done'. Our managers all commented that they not only found the presentation stimulating, but entirely relevant both in our business as Flight Centre and in their personal lives and future development".

Quote from: James Martin Managing Director, Conference Dynamics Ltd
"We have worked with Tom McClean on many occasions over a number of years and have always found him to be flexible and reliable. His presentations are humorous, imaginative and extremely motivational for the appropriate audience. We are happy to recommend Tom as an after dinner speaker/conference speaker".
Quote from : Gina Honeysett MBNA Bank, Marketing Division
"Thank you Tom for making the presentation entertaining, informative and motivational. Everyone loved your stories and the balance of your presentation, style and humour. It was a pleasure meeting you and I wish you good luck and continued success in your adventures".

Quote from : Jon Sandham Liverpool Victoria, National Field Sales Manager
"I would like to thank you for your inspiring speech, it was both motivational and interesting. Your determination throughout your challenges proved that achievement is possible in both adventure and buisness".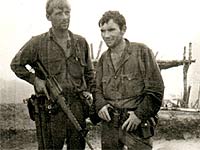 In the SAS in Borneo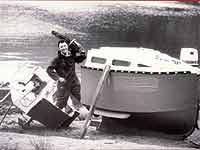 2 Feet off Giltspur the McClean way!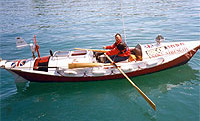 Rowing from Canada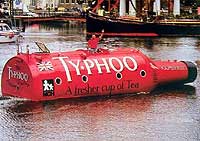 Tom's Bottle Boat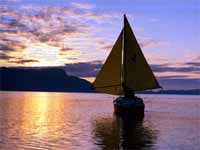 Homeward Bound
Tom McClean,
Invermorar House,
Morar,
Highlands,
Scotland,
PH40 4PA
Tel: 01687 462274